It was right in the middle of one of the long, bright days of midsummer in Northern Sweden, that I first met Tina Goldmann. On my way into town I had stumbled upon a small Gastronomy festival in a local park, and was taking the time to sample some of the local artisanal delights that were being offered by local producers standing at the numerous stalls. With wonderfully unique local cheeses, spruce syrup and meadowsweet cordial, crispbreads and all manner of jams and preserves made from the fruits of the surrounding forests and mountains, the festival offered a delightful introduction to the local cuisine.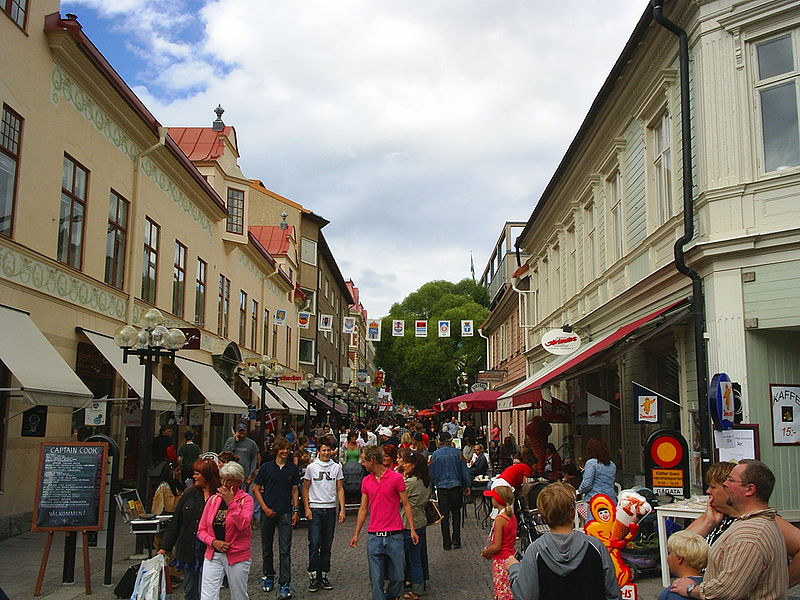 I explain to Tina that I moved here to Östersund, in the Swedish county of Jämtland, less than a week ago, and she hands me four packets of flour as a welcome present. Östersund is Sweden's food capital, and one of UNESCO's Cities of Gastronomy, while Tina is the local miller. I had in the last couple of years started to experiment with baking a little bread at home, and I expressed my interest in the flour that she was producing. We got chatting and she explained how she herself had moved to milling from a previous career, after spotting an old 1920s stone mill in a village just outside of town, and deciding to buy it with her husband. She invites me to visit the mill some time so that I can see how they produce their flour. We exchange numbers, and then smiling, I go on my way. It was here that my journey into Jämtland's bread culture began. But as I would soon find out, Jämtland's own journey began much earlier.
Östersund lies inland at 63° latitude, and 312m above sea level. The surrounding region of Jämtland is covered with dense forest, with a mountain range to the west, separating it from Norway. The average temperature is below freezing point for 5 months of the year, and the land is covered in thick snow throughout the whole winter, often through into April and early May. It thus took agriculture a little longer to spread this far north, and with it settled communities of people. Thankfully however, the tempering effect of the local lake Storsjön (literally, Big Lake) gives the area encompassing it a somewhat milder climate compared to the surrounding region – so much so that today it can boast being the most northerly located inland agricultural society in the world.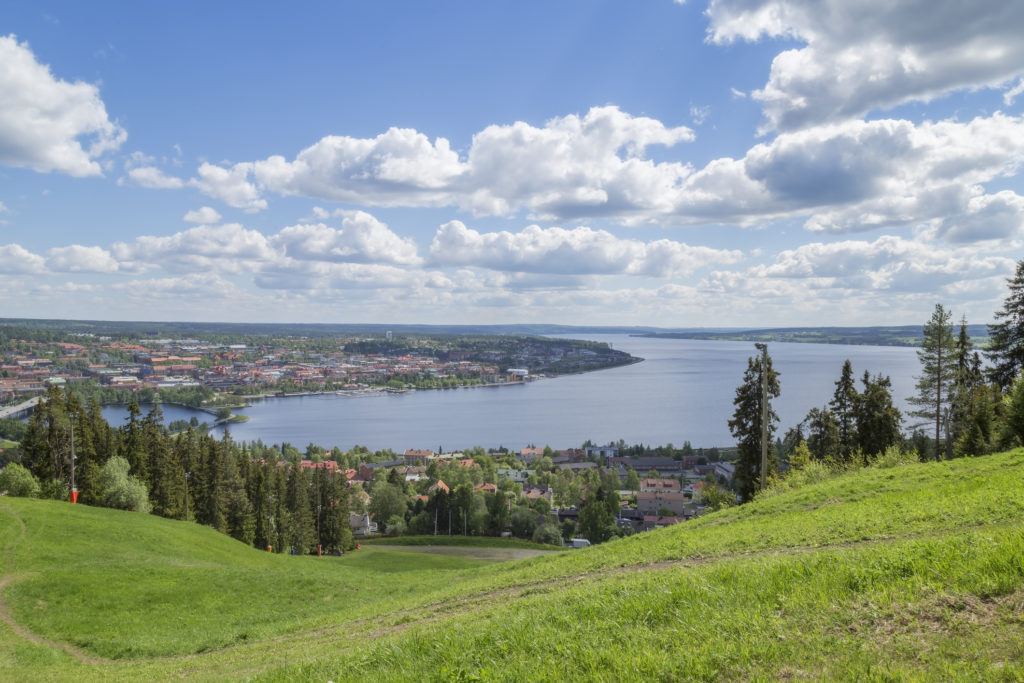 The climate is nonetheless temperamental, and agriculture here tends towards the pastoral, with the raising of cows and goats for dairy products and meat. The range of crops that can be grown is therefore limited, and it took some time before cereal crops could get a foothold. The cereals that could be grown in cooler climates were therefore the first to be cultivated, and continue to play an important part in the local cuisine today.
There is evidence of barley cultivation on the islands of Storjön from the 5th century, even before the Viking Age. The lack of gluten in barley prevents it being used to create airy leavened bread, but the coming Iron Age allowed this grain to be cooked into a kind of flat bread on iron pans on a hearth, before the introduction of ovens. The local speciality tunnbröd (thin bread) is a type of flat barley bread that is still popular today, baked in dedicated wide ovens, often in a small bakstuga – a special room or building attached to a residential house, used for baking. It is a popular accompaniment to a Christmas dinner in Jämtland.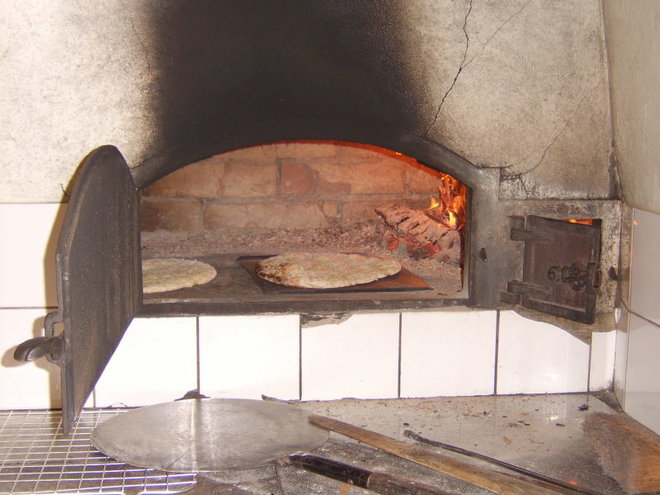 Many Finns moved to Jämtland in the 17th century, and brought with them their own cereal and form of agriculture. The grain was svedjeråg (swidden rye) and the form of cultivation was known as svedjebruk – swidden or slash-and-burn agriculture. They would burn down an area of forest and grow this form of rye in the fertile ashes of the cleared land, before moving on to the next area. This form of rye was extremely productive, and could produce hundreds of ears of grain from a single seed, each on a separate stem. Much larger harvests were derived from this type of rye, introducing an additional cereal to the region and allowing the locals to experiment with another type of flatbread – the classic Swedish knäckebröd (crisp bread).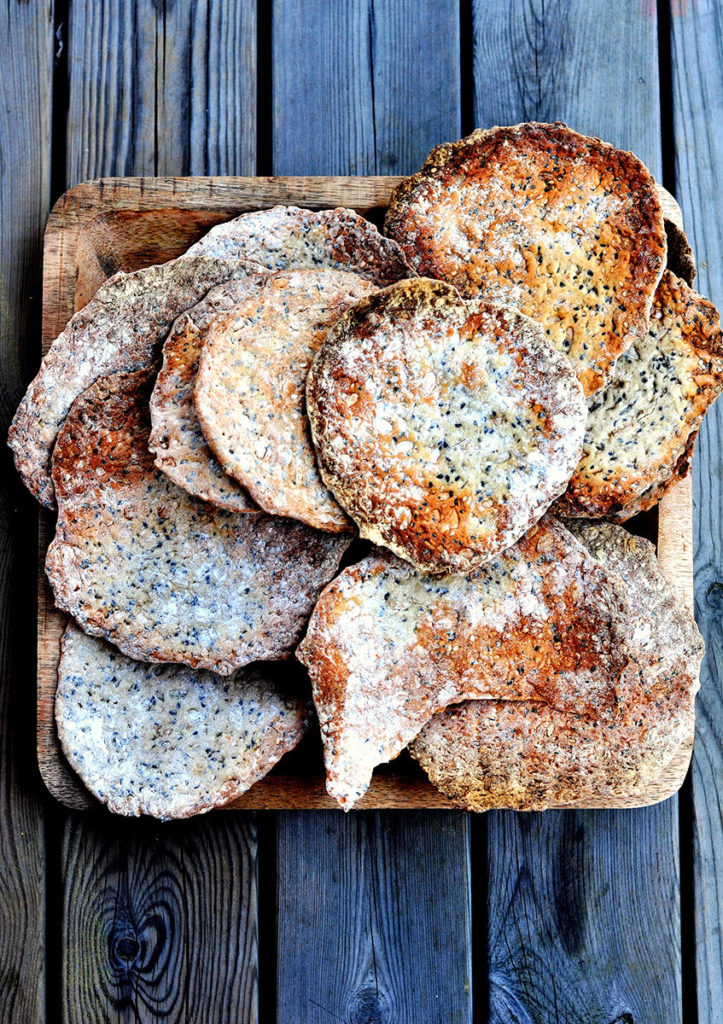 Oats and wheat were harder to cultivate, and came much later. Like in many cultures around the world during these times, wheat was considered a sign of wealth and prosperity, often being imported from more southerly regions. Priests and other officials had begun experimenting with wheat cultivation around the mid 18th century, and slowly they began to give rise to cultivars that were suited to the tougher climate.
—-
A month or so after visiting the Gastronomy festival, I visited Tina at her mill, Ångsta Kvarn. It is built in traditional Swedish style, using wood sourced from the surrounding forest. It is a little piece of history in itself, and attracts many visitors throughout the year, drawn by its rustic charm and its charismatic owner. Tina holds a  "bread day" at the mill in the spring where local bakeries and home bakers are invited to show off and sell their products, while visitors can get a tour of the three-storied mill and take home a little flour to bake with themselves. Pizza made from the mill's flour is baked in a portable wood-fired pizza oven, topped with cheese and meat from local producers. Together with the more traditional dish of kolbullen – a thick pancake filled with bacon and served with lingonberry jam, originally eaten in the forests by lumberjacks and coal-burners – these warm treats serve as a comforting bulwark against the cold.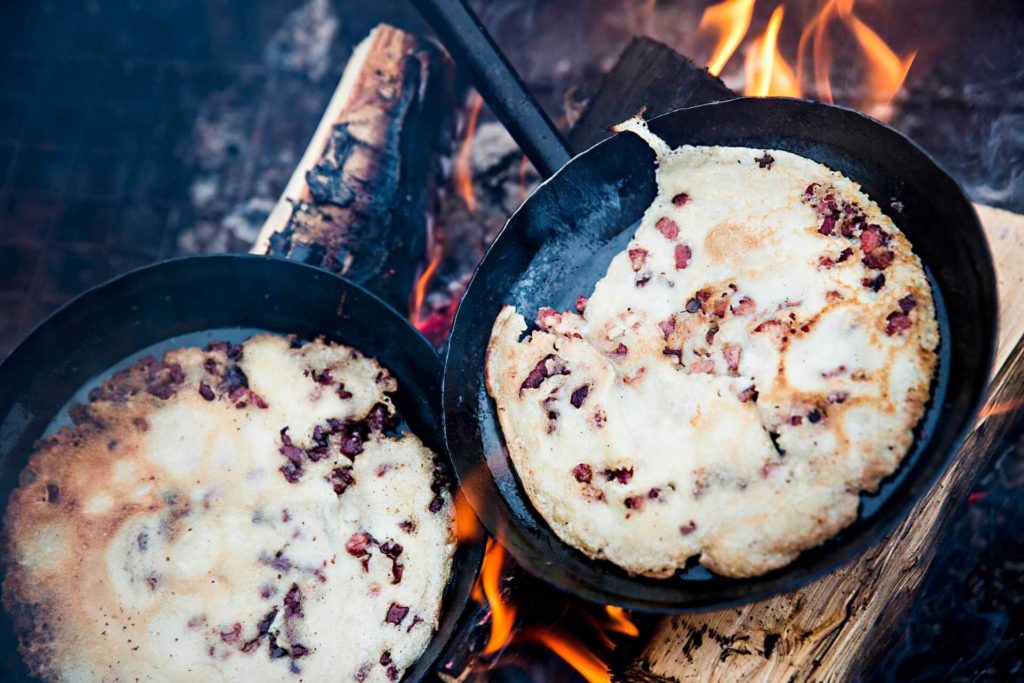 I discover that Tina is part of a project in the region where specially selected strains of wheat are being grown on an island of Storsjön, before being milled at Ångsta and then sold to local bakeries. This "grain triangle" has been successful in providing a truly local source of organic wheat flour to the region, which has great baking qualities to boot. It is a long way from the early days of pan-baked barley bread.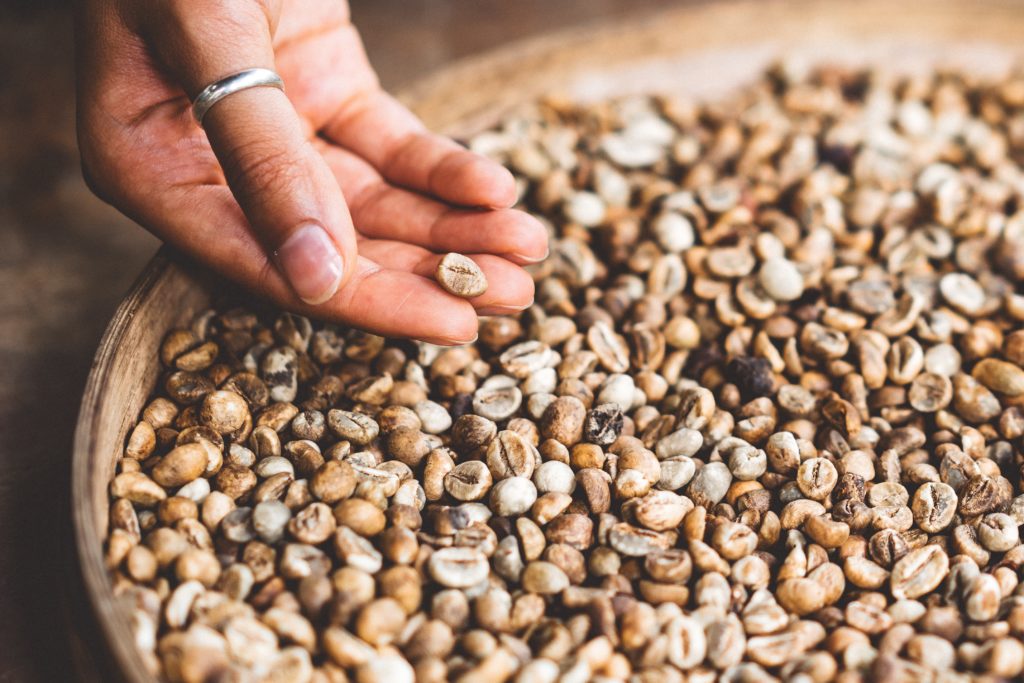 The jämtar, as the local people are known, take great pride in their culture, and are especially proud of their food traditions. Having been alternately owned by both Sweden and Norway throughout history, Jämtland has developed an identity of its own, and the dialect Jämtska – which many claim to be a language of its own – is still widely spoken in rural areas. They are therefore very keen to not only preserve this culture, but also to develop it in new and interesting directions. The grain triangle is a great example of this, while Jämtland is also home to Fäviken, Magnus Nilsson's Michelin-starred restaurant that puts a very modern twist on the traditional cuisine, sourcing ingredients as much as possible from local producers and from the wild. People now come from around the world just to sample what the region has to offer.
For my part, I was hooked that first day at the Gastronomy festival in Östersund. The friendliness of the jämtar had drawn me in, and the quality and uniqueness of their food culture had sealed the deal. I had heard a lot about the organisation Eldrimner that day, based just outside of Östersund and which had originally been founded to help preserve the food traditions of the region. Today it has grown to become Sweden's National Centre for Artisan Food, helping to train food artisans from throughout the Nordic region, while providing advice, certification of food products, and arranging the annual Swedish Championships in Artisan Food, Saerimner.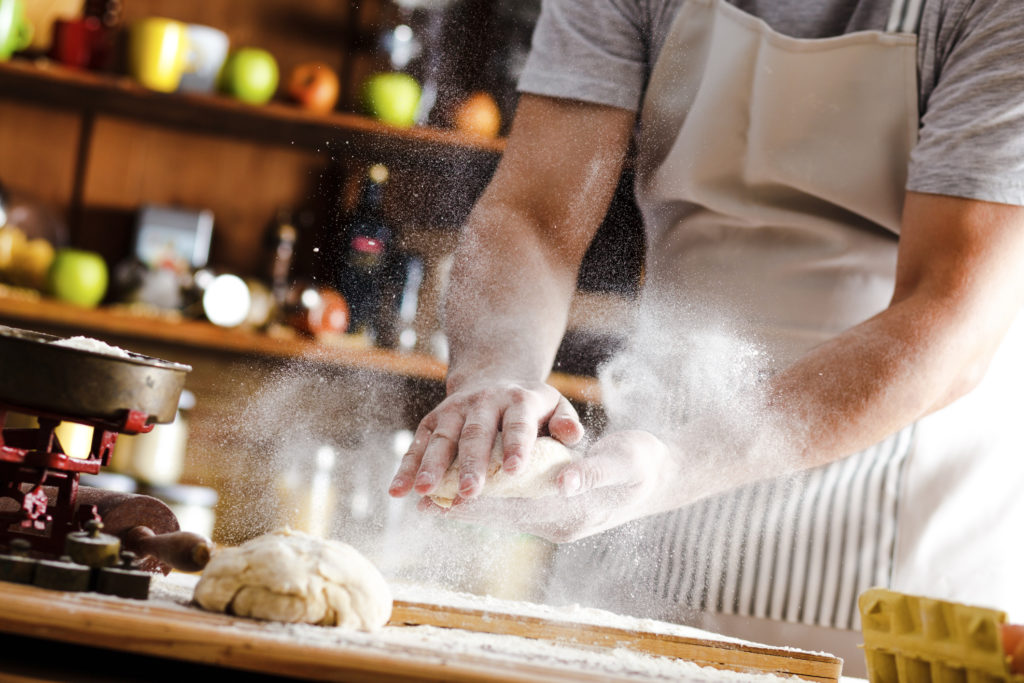 A year on, I would be a proud part of Eldrimner's first group of students in their new year-long education in artisan food, taking my specialisation in the bakery, with a strong focus upon sourdough bread. It would take me from budding home baker to baking professional, meeting bakers from around the world and delving even further into the food culture of not just Jämtland, but of the whole of Sweden. And all thanks to that fateful day on the shores of lake Storsjön.