Filmjölk, knäckebröd and kanelbullar – A year training at Eldrimner
I started taking my first tentative steps into the world of bread baking in 2011, while I was writing my Master's thesis on allotment communities. I was still very much an amateur back then, following the odd recipe and trying to get a feel for the dough. The baking acted as a welcome respite from the otherwise intense writing sessions that were taking up the majority of my time, and the bread itself offered a most welcome treat. The loaves themselves however, looking back, were pretty dense – it didn't take long for me to realise that there are certain aspects of baking you simply can't learn from a book. Some direct, hands-on teaching is what you need, followed by a good few bakes under your belt to really start to get to grips with the processes at both an intellectual and a sensory level.
I was lucky enough that summer to get a little of this hands-on teaching from a local amateur baker named James Thorn, who now runs his own microbakery Wild Bread in the UK town of Faversham in Kent. His introduction whetted my appetite, while introducing me to the world of sourdough. Little did I know however that four years later I would have switched the bountiful Kentish countryside for the cool Swedish forest, and be about to embark upon a professional baking education at Sweden's National Centre for Artisan Food, Eldrimner.
I had been living in the Swedish city of Jämtland for a year, during which time I had become well-and-truly hooked upon the local food traditions that dominate the region. I had become especially involved in the bread culture, acquainting myself with local millers and bakers, and a few of those that worked at Eldrimner itself. After an intense summer of hard-core language learning, I had just about developed my Swedish skills to the required standard to be admitted onto the organisation's very first one-year education in artisan food, and I would be taking my specialisation in the bakery.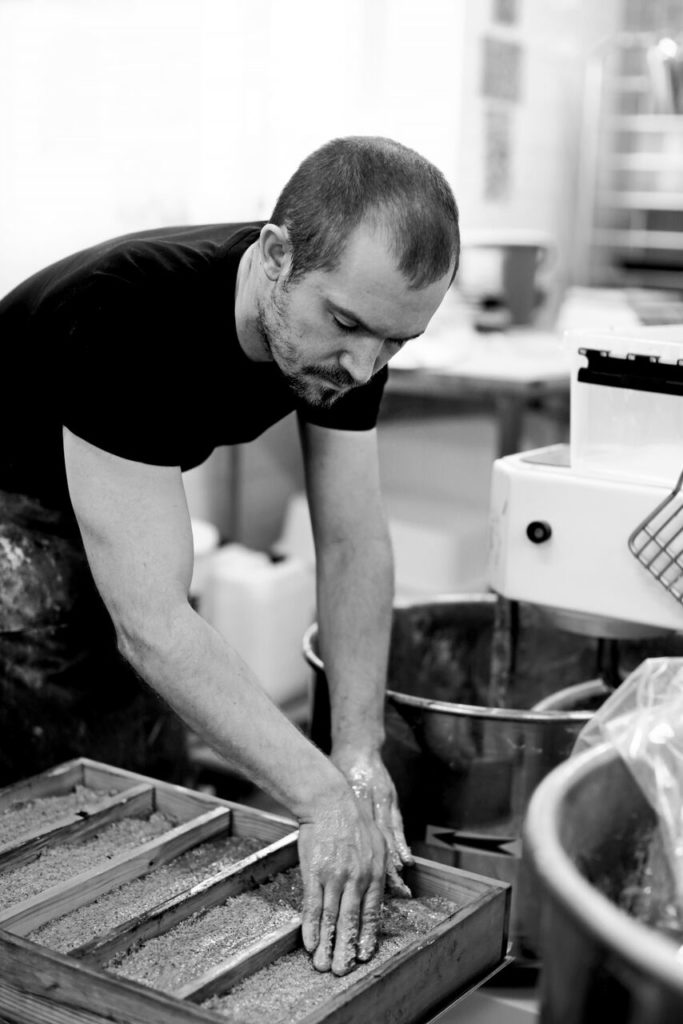 We were an eclectic bunch of students, of all ages and backgrounds, ranging from recent school leavers to pensioned farmers. The one thing we all had in common though was a love of quality, home-made food – of preserving the fruits of the year's harvest in unique, flavourful food products, and sharing these with those around us. It was refreshing to be able to raise obscure "foody" topics in conversation and have those around you nod in agreement rather than look at you askew, somewhat suspiciously. There was a great sense of cammaraderie among us, and I made some great friends that year. Studying in a foreign language that I had only been speaking for a year was tough, but with the support of my classmates I was able to not only make it through the education, but – I believe – also make an important contribution, bringing to it my own perspectives and experience.
The education itself was superb, and gave us a grounding in much that we would need to know to start up our own artisan food businesses. The whole group joined together for the theoretical work, learning everything from small-scale business economy to food hygiene, marketing and microbiology. But it was the practical work that was the most exciting, and where we split up into our various specialisations.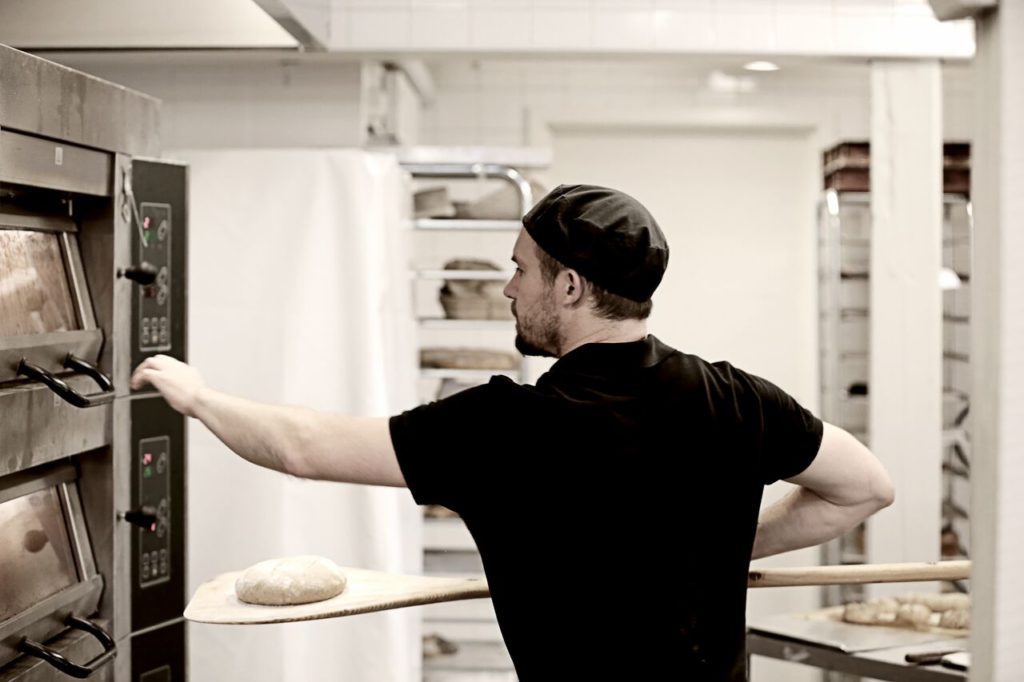 A few students were learning charcuterie, producing sausages and other preserved meats, while another group learned various methods of fruit, berry and vegetable processing – everything from jams and marmalades to chutneys and pickles. These included using the traditional Swedish method of preserving known as a 1,2,3-lag, which uses ättika, sugar, and water in a ratio of 1:2:3. Ättika is a very acidic clear distilled alcohol vinegar, much used in Sweden for everything from preservation to cleaning.
In the dairy the students tried their hand at producing butter, yoghurt, a whole range of different cheeses and the Swedish fermented milk known as filmjölk. It is difficult to describe fil to someone who has never tasted it before. It is similar to yoghurt; thick, but somewhat less acidic. It does however have a distinct smell which I feel distinguishes it more than its taste. It is fermented with different strains of bacteria than yoghurt and other fermented milk products found elsewhere in the world, and so no true English translation for its exists. It is popular at breakfast, topped with muesli or mixed with Swedish blueberries or raspberries from the forest. Sylt, a type of unset jam popular in Sweden, can also be mixed into it. Swedish cloudberry jam – hjortronsylt – is especially tasty!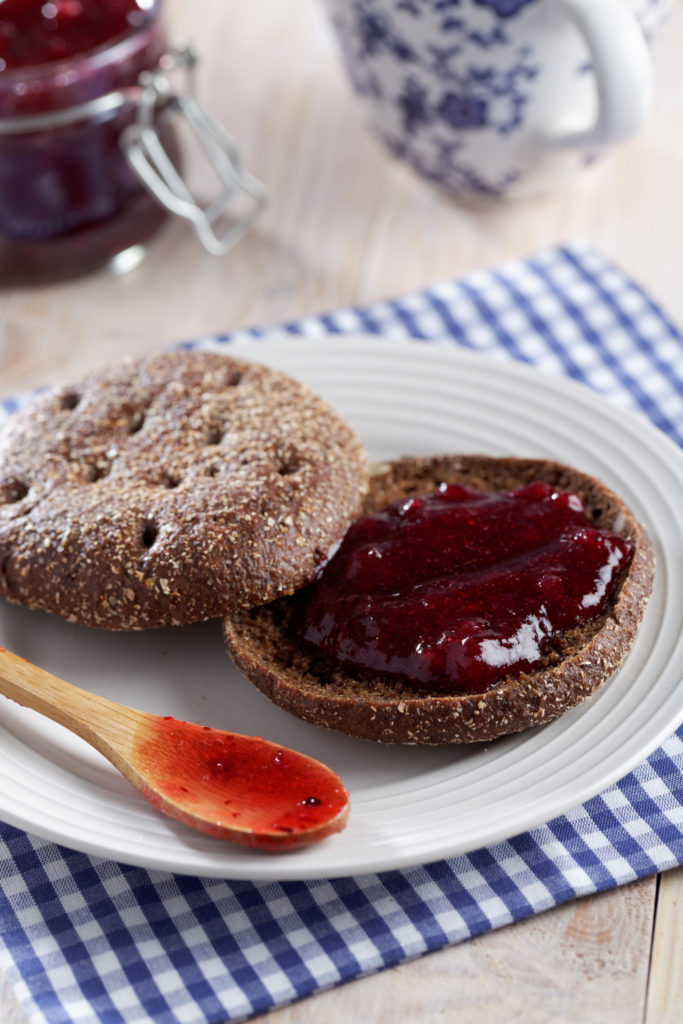 Across the hall in the bakery, we had our own variety of fermentation taking place. Here we were learning the secrets of sourdough, slow-fermenting artisan flours from heritage strains of wheat, rye, spelt and barley into nutritious loaves, rolls and flatbreads. Some of the top bakers in Sweden would visit to teach us their own particular specialities, with Sébastien Boudet, Manfred Enoksson and Robin Edberg each offering techniques from their homelands of France, Germany and Sweden, respectively. Manfred's dense German rye bread and pumpernickel provided a filling lunch, while Sébastien's croissants and pain au chocolat, not to mention Robin's kanelbullar (cinnamon buns) and kringlor (sweet vanilla kringle, or soft pretzel), offered great opportunities for a fikapaus.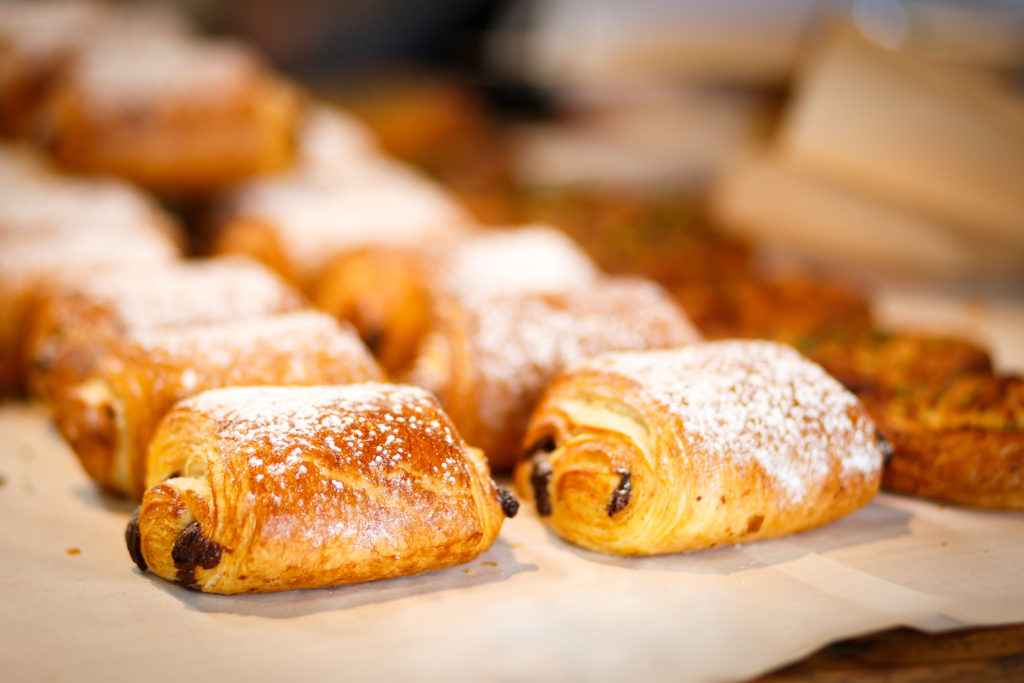 Fika is something of an institution in Sweden. To an outsider it might seem like little more than a "coffee break" – a chance to stop and grab a drink and a bite to eat. But to the Swedes it is so much more. It is a part of the national psyche in a way that perhaps only a native can really appreciate, a unique social opportunity that allows one to relax and chat with one's friends or colleagues. Fika is taken at work, at home and in cafés – coffee is ubiquitous, and a sweet treat is rarely amiss. In a nation whose people are often seen by others as being shy or introverted, it offers a great opportunity to sit down and socialise in a particularly Swedish way.
My education would also take me around the country, spending time on internships in five different bakeries, each teaching me different skills and techniques. November and December found me deep in the Jämtland countryside, learning to bake the Swedish flatbread knäckebröd in a small farm bakery run by Kerstin Englund. She had set up a small bakery and café in a cabin near to their house, where local villagers would come by for a fika, or to pick up a loaf of bread. I myself slept in another cabin nearby, kept warm from the thick snow and cold outside by my own wood-fired heater.
The spring saw me on the west coast, learning more advanced baking techniques in Robin Edberg's bakery Cum Pane in Gothenburg. This internship coincided with semla season – the craze that sweeps the nation in the late winter when every Swede across the land wants to get their hands on the city's best semla, and every bakery wants to be the one producing it. A semla is a type of cream bun, filled with almond paste, and dusted with icing sugar. It was traditionally only eaten on Shrove Tuesday, but today many bakeries start making them much earlier, looking to meet the ever-growing demand.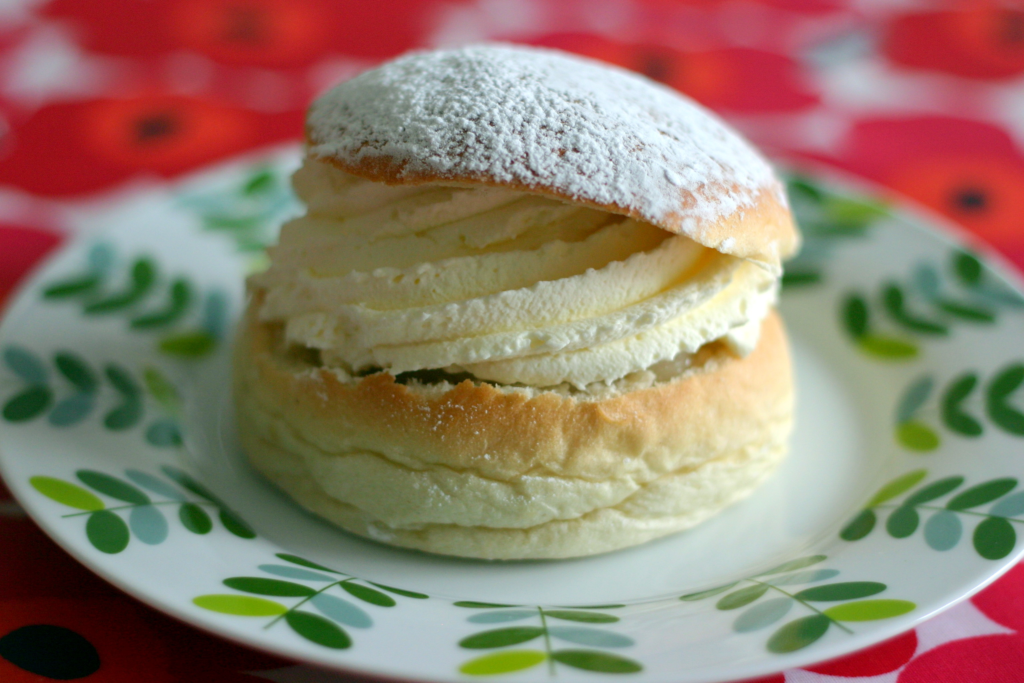 In June, we rounded off the education with a weekend baking at the food festival Smaka på Stockholm (Taste Stockholm), in a park located in the centre of the nation's capital. Sébastien Boudet, something of a celebrity baker in Sweden, had invited us students there to bake with him, joining some of the top bakers from across the country to bake fresh bread, croissants and kanelbullar for the hungry festivalgoers. It was an inspiring end to an intensive yet enjoyable year, and one which set us each on our way towards future careers in artisan food.
 My baking interest would inevitably intertwine with my interests in anthropology, small-scale agriculture and biodiversity, leading to my involvement with the organisation Allkorn. Allkorn is a non-profit organisation which works to preserve and promote Heritage Grains – cereal cultivars that were used before the Green Revolution, and which may be key to ensuring future food security in a warming and increasingly densely-populated world.
---
Cum Pane comes from the Latin, meaning literally "with bread". It denotes the one with whom one breaks bread, i.e. those that one is close to or socialises with. It is the root of words denoting friendship or acquaintance in many languages, such as the English "companion", the French "copain" (friend/buddy), and the Swedish "kompis" (mate, buddy). It is even linked to the word "company" (especially in the military sense).